Login
Log in if you have an account
Don't have an account? Register
Aug 08, 2022
4 Unique Ways to Use Herbs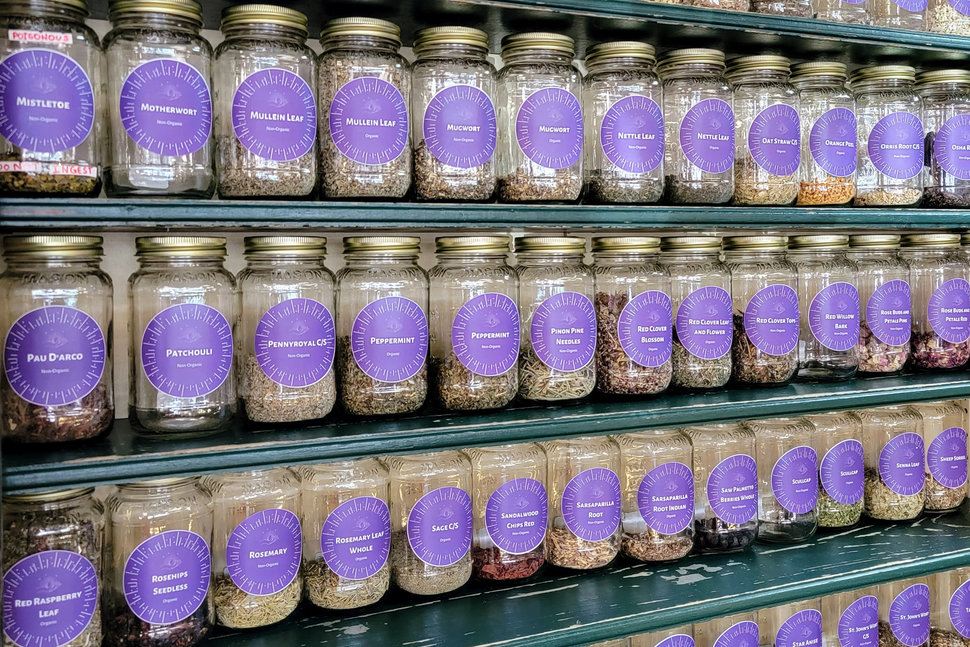 4 Unique Ways to Use Herbs
If you have entered our Mystic Valley store in Maplewood, Missouri and made your way to the very back wall, then you are more than familiar with row after row of herbs, in jars, behind the sliding glass doors. No need to be intimidated. Herbs are awesome!
While there are a wide variety of ways to use herbs, we came up with 4 of the most unique ones based on lots of feedback and preferences from our staff and customers. (*Note: Use herbs at your own risk. Consult your doctor before handling any herbs.)
#1 Make or Buy Herbal Tea
What's your cup of tea? We make herbal teas for relaxation, dreamwork, visions, digestion, etc... We sell our own herbal tea blends: Mystic Herbal Tea and Women's Euphoria Tea. So grab a cup of hot or iced tea at the store for $1.75 or buy a .5 oz bag for $1.99!
 
#2 Make or Buy a Bath Bag
Need a easy way to relax, cleanse, and detoxify? Let us help you make a custom herbal bath bag. Even better, buy a "Nuwati" Herbal Bath Bag. Favorites: Going in the Cave Comforting, Going to the Pow Wow, Sweat Lodge Cleansing, and Going to the Springs.
 
#3 Make Your Own Mojo Bag
Manifesting an intention? Make a personalized mojo bag or pouch with herbs! Mystic Valley customers will carry, wear, travel, or leave these in the car, house, office, or hotel. An easy way to promote healing, protection, prosperity, emotional balance, and more.
 
#4 Make Your Own Spell Jar
Spell jars are similar to mojo bags in how you personalize them to manifest your intentions, but they are more often associated with rituals. Use a bottle with candles, incense, oil, charms, and more! Light the candle on top and watch wax drip down the sides.
 
Final Thoughts About Herbs
As always, our staff is here to help! Stay tuned to Facebook and Instagram for some herbal "recipes" from Mystic Valley. Nothing we offer or sell is secret or proprietary. We are as transparent as possible so you can use herbs with confidence and enjoy doing so!
(*Note: Anyone who is pregnant or breastfeeding should use extreme caution when handling herbs. Mystic Valley and Staff are not responsible for any side effects that may occur when using herbs. Mystic Valley and Staff cannot treat or diagnose any illness.)