Login
Log in if you have an account
Don't have an account? Register
Dec 06, 2022
Gift Cards Bonus + Holiday Drinks, Decor & Hours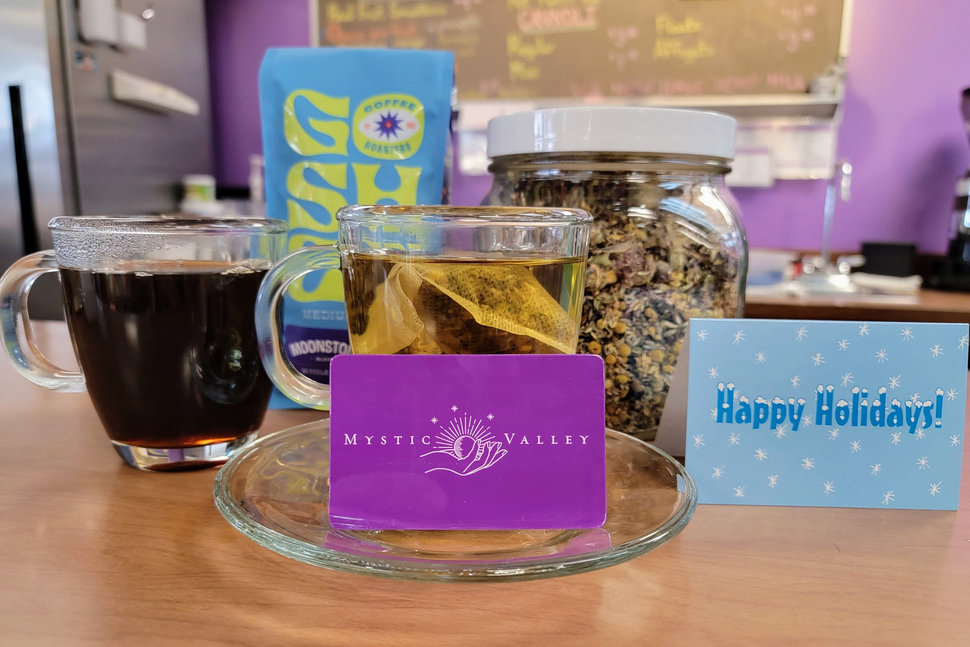 Special Gift Cards Bonus...
Now until the end of 2022!
Started Monday, December 12th! Runs until the end of the year (December 31st)! Stop in, shop Mystic Valley, and grab a special Gift Card bonus:
• Buy $25 or more: FREE Coffee or Herbal Tea
• Buy $50 to $100: BONUS $10 on a Gift Card
• Buy $100 or more: BONUS $25 on a Gift Card
Gift Cards make shopping easy, and a gift card is a great way to introduce friends and family to us. So come sip & shop in Maplewood, Missouri!
'Tis the season of giving gifts. This is a way we can give YOU a special gift just for being an awesome customer of Mystic Valley. Happy holidays!
 
Speaking of Coffee & Tea...
Two special holiday drinks!
It just is not the holidays around here unless there is something special brewing at our coffee bar at the back of the shop. Check out these two special holiday drinks:
Our Peppermint Tea is just that! It is made with the finest quality loose peppermint tea from our collection of fresh herbs. And we serve it to you with a mini candy cane!
Our Peppermint Bark Latte is a bit of delicious decadence. Served up with lots of whipped cream, which is then topped with chocolate shavings and crushed peppermint!
 
Decorations for Christmas
as well as Winter Solstice!
Customers love grabbing the unqiue ornaments off our purple Christmas tree. We have mushrooms, dogs, cats, sloths, gnomes, wine glasses, rainbows, and much more.
Another popular favorite with customers are the holiday charms: snowmen, Christmas trees, pineapples, reindeer, candy canes, poinsettias, pickles, and so much more.
If you celebrate Winter Solstice or Yule and the return of the sun, then just in are some really cool lamps. Shop bells and charms with bells, greenery, Yule logs, and more.
 
Our Holiday Hours

We want to make sure you can shop Mystic Valley for the holidays, so extended hours started on Monday, December 12th. Let us help you find the perfect gifts for loved ones!
• Monday-Saturday: 10am-8pm | Sunday: 11am-6pm
• Christmas Eve: 10am-6pm | Christmas Day: Closed
• New Year's Eve: 10am-5pm | New Year's Day: Closed
Remember, you can always shop online 24/7. Finally, the sisters (Dina, Traci, and Kristy) and all us here thank YOU for a great 2022 and we wish you a joyful holiday season!