Login
Log in if you have an account
Don't have an account? Register
Jan 15, 2023
New Year Intentions + 5 Best Sellers of 2022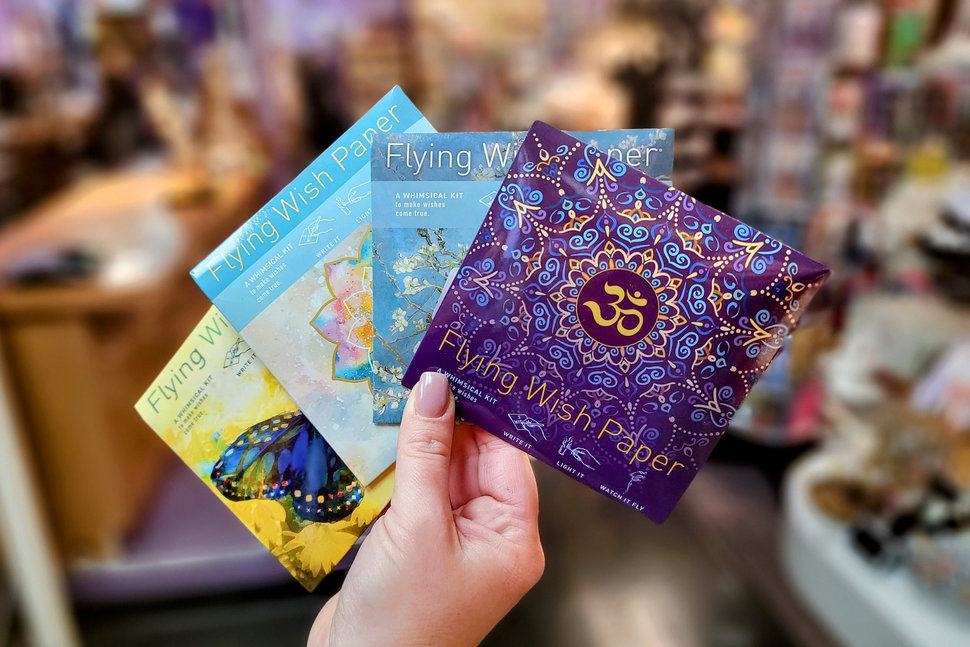 New Year Intentions...
Use Flying Wish Paper!
Looking for a fun and easy way to set and help manifest your intentions for the new year? Use Flying Wish Paper!
Step 1: Write your intention on the paper and focus on it as you roll the paper into a tight ball.
Step 2: Gently unwrap, smooth, and roll the paper into a tube around your finger, then stand it upright on the platform.
Step 3: Touch a match to the top edge of the paper, then watch it be consumed by a small flame. Then, at the last moment, watch it lift off the platform and rise into the air, sending your intention to the Universe!
Watch our video on Facebook! Please note: This is best done indoors.
Whatever your goals might be for 2023, we can help! Stop by the store or shop online 24/7. We thank you for a great 2022 and wish you a safe, prosperous and joyful 2023!
 
5 Best Sellers of 2022...
Because you asked us!
We often get asked, "What do we sell the most of?" So we ran the numbers. If you are looking to get a fresh start in 2023, these are our TOP 5 best sellers from last year:
Palo Santo Sticks: Palo Santo sticks are mainly used for smoke cleansing—to clear your space or yourself of negative energy while inviting positive energy.
Rose Quartz: Rose Quartz is a crystal that is good for bringing love of all types to your life, including unconditional love, and especially self-love. It also helps ease heartbreak and increase compassion.
Chime Candles: Chime candles, along with other items, can help you manifest your intentions. Black is great for bringing you protection from negative energy, repelling bad energy, breaking a habit, or ending an unhealthy situation. White is good for new beginnings, purifying, calming, and bringing peace.
White Sage Bundles: Smoke cleansing with sage helps rid your space, items, and yourself of negative energy. Using sage is one way to cleanse your stones of any energy they may have absorbed.
Smoothies: Real fruit smoothies are delicious and healthy! We also serve lattes, coffee, espresso, chai, gelato, and cannolis.
With any spiritual practice, one of the most important components is setting your intention and focusing on it while using any of these tools. If you have any questions, we're available in the store, by email or direct message on Facebook or Instagram.
 
Coming in February...
With Valentine's Day just around the corner, we want you to start thinking about products you love. Have you ever received a special gift or had a meaningful experience at Mystic Valley?
Mark your calendar! The Kirkwood Gem Show is February 17-19. Hours: Friday 4-9, Saturday 10-6, and Sunday 10-4. At the Kirkwood Community Center (111 South Geyer Rd). See you there!